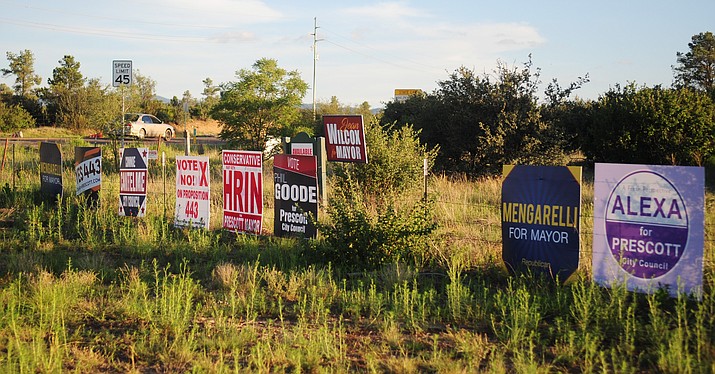 Last summer Prescott voters had their first experience with dark money in a local election.
During the campaign season leading up to the primary election in August, someone, and we still don't know who, paid for flyers to be circulated in our community that contained inaccurate and incomplete information about mayoral candidate Mary Beth Hrin.
Later, in the general election last, dark money was back, with an attack against mayoral candidate Jean Wilcox. Again, we don't know who paid for those flyers that were intended to influence that election.
The Arizona House of Representatives passed a bill on Tuesday that protects the anonymous people who pull strings behind the curtains during local political campaigns. House Bill 2153 appears to be a reaction to Tempe's plan to be the first city in Arizona to put a spotlight on dark money, forcing nonprofit groups that spend more than $1,000 in a city election to name the sources for the money. Tempe voters are scheduled to consider that proposed charter amendment in a March election.
Lawmakers in Phoenix who support HB 2153 want to protect dark-money sources in local campaigns say they worry that people who contribute money to political campaigns could be harassed for their political views if their contributions were made public. That's the lawmakers' argument for allowing them to hide in the shadows.
Prescott Rep. Noel Campbell was the only Republican in the House to vote against the bill.
News media tries to avoid anonymous sources because we know that when you have to put your name on a quote or any other information you provide, you're more likely to provide information that is accurate. If you can say anything and not have your name attached, then the information you provide is more likely to be misleading, inaccurate, or even a vengeful lie, intended to harm someone else.
The same argument should be used in regards to political contributions. If a contributor to a campaign is allowed to hide in the shadows, and the public never knows the identity of that contributor, they are unlikely to ever be held accountable for any falsehoods they promote.
Ask Mary Beth Hrin how that feels.
When the U.S. Supreme Court allowed corporations to give money to political campaigns, it said that full disclosure of the contributors would keep them from abusing that ruling.
Now, Arizona lawmakers want to make it easier for groups and people to contribute a lot of money to sway elections without disclosing who they are.
You don't need to be a first-year political science major to know this is a horrible development for democracy.
This bill encourages people to donate money anonymously, so they won't be held accountable for any misinformation they use in election materials.
We applaud Rep. Campbell for voting no on HB 2153 and urge all state Senators to reject this bill and the harmful impact it will have on our democracy.
Our legislators should be working to rid us of dark money, not encouraging it to flourish.
Do you like this post?